Custom 3.7V 7.4V 11.1V heating clothes battery pack 7.4V heated gloves battery Lithium Ion polymer Hand Warmer Electric Thermal Gloves batteries
---
Battery characters:

Battery type: Li-ion battery/ Li-polymer battery
Battery Voltage: 3.7V/ 7.4V / 11.1V
Nominal capacity: 2500mAh~5500Ah

Standard discharge current: 2000mA

Working temperature: -20~60℃

OEM: with tabs, BMS, Connectors, Battery packs

Certificates: CE, ROSH, UL, IEC62133,UN38.3
Different configuration is available, can be packsed in various shapes, capacities and voltages.
7.4v 2200mah lithium battery for heating clothes heated glove batteries 18650 rechargeable
18650 rechargeable lithium batteries
No memory effect, recharge more than 500 times
High energy density and lower weight than other types rechargeable batteries cell
Battery capacity and size can be customized
Built-in BMS (Battery Management System) to protect over-charge and over-discharge
---
Application features:
1、Rapid Heating: Imported high-efficiency composite carbon fiber heating wire, high heating temperature, rapid heating, long service life, folding resistance, safe and reliable.
2、User-friendly Design: Finger touch, can play mobile phone, make and receive calls while wearing gloves, very user-friendly design. Fingers and the back of the hand can heat up, warmer than many gloves on the market that only heat the hand back.
3、3 Temperature Levels: Hold 3 seconds to start or close. 3 temperature levels, red high temperature 40-45℃, white medium temperature 35-40℃, blue low temperature 30-35℃.
4、Battery Powered: Use 2 3.7V 4000 mAh lithium batteries. Put battery into zipper pocket on the back of the glove and plug in the pocket, then press 3 seconds to turn on the smart switch on the hand back.
5、Wide Application: Suitable for various outdoor sports, such as hiking, camping, fishing, hunting, running, horse riding, skiing, rock climbing, driving, etc.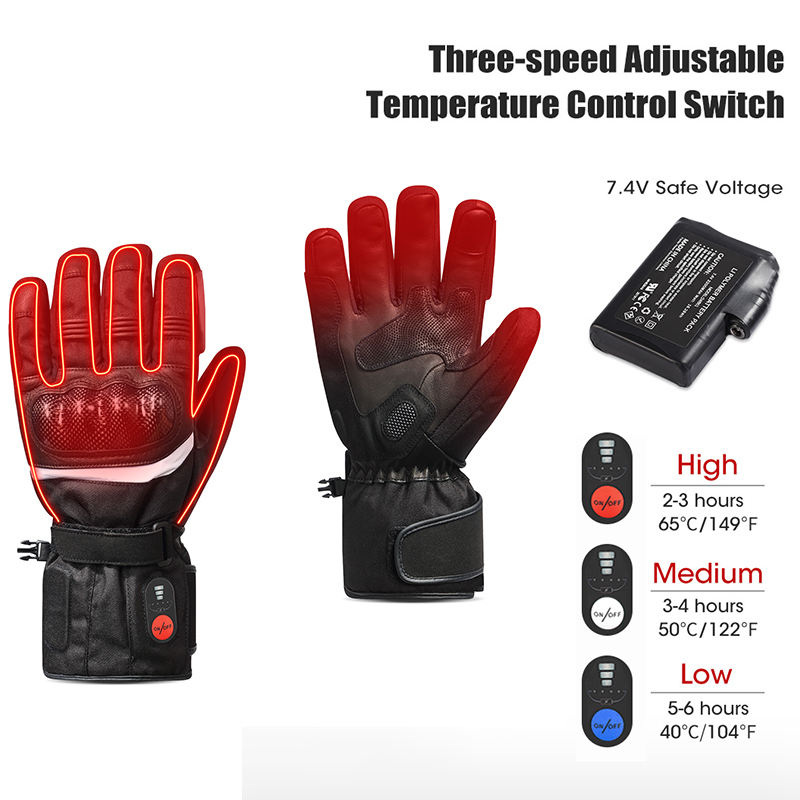 Tags: Smart Temperature Control battery,heating clothes battery pack,heated gloves battery,7.4V heated gloves battery,Lithium Ion Hand Warmer Electric Thermal Gloves batteries,heated glove batteries,Lithium Ion polymer battery,18650 battery pack
---
Choices for Heated gloves battery:
Rechargeable solution

Primary solution

Primary solution

Primary solution

Rechargeable solution

Do you want to make your wearable devices can be used in winter outdoor anywhere?
Our battery system can help you make it. We provided for Hik vision, Huawei UNV etc brands.
If you use our batteries, you will be very competitive in wearable products market.